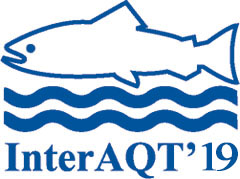 What is "International Aquaculture Technology Exhibition"?
There is great expectation for the role aquaculture plays, such as contribution of sustainable fishery, effective utilization of depopulated areas, provision of workplace for elderly people, creation of fishery industry on land not facing the sea. We will spread information about the importance of aquaculture industry that is reliable, safe, secure, and capable of stable supply based on production history.
Event Outline

Event name
"International Aquaculture Technology Expo 2017"
Exhibition period
August 23 (Wed) ~ 25 (Fri), 2017
Venue
Tokyo Big Sight East 7/8 Hall
Application deadline
June 30, 2017 (Friday)
Co-event of "The 19th Japan International Seafood Show"

Exhibitors

Aquaculture system
Sea Surface Aquaculture System
Water Quality Control and Instrument
Fisheries, aquaculture area, marine environmental preservation equipment
Filter, Water purification equipment, Water quality improvement agent
Aquaculture sludge separation device
Aquarium
Cooling device
Oxygen supply / disperser
Heat exchanger
Aquaculture management computer system (ITC)
Fodder, nutritional agent, filtered product
Fishing net anti-fouling agent, Selected antifouling paint
Fishing net, crib
Offshore aquaculture equipment
Feeding equipment / epidemic related / seedling related
Algae culture
Various bio devices
Fishery material cleaning equipment
Shipping processing equipment
Fish counter
Automatic sorting system
Red tide / sea bottom sludge countermeasure
Live Fish Transport Equipment / Technology
Anti-rust and anti-rust agent
Fisheries Pharmaceuticals
Aquarium related facilities
Underwater Camera
Fishing boats / related equipment
Ultraviolet, ozone sterilizer
Aquarium fish supplies
Various new materials for aquaculture
Other materials etc.





Visitors

National aquaculture and seeds supplier
Fishery Processor
Fisheries Cooperative Association
Fisheries association
Fisheries experts / academic societies / educational institutions
Tropical fish / award-winning fish trader
Government Offices / Local Governments
National fishery / fishery workers
Fishery related trading company
Fisheries Experiment Station / Research Institute
National aquarium officials
Fisheries related companies
Others




What do you expect from aquaculture in the future?





Exhibitor's voice

I participated in the "International Aquaculture Technology Expo 2017" and also participated in exhibitor seminars, so it seems that there were many customers of cultured farmers. We are holding business talks with 3 to 4 companies that are likely to become new dealings. Depending on the size of the aquaculture farm, if you negotiate a deal, it is likely to become a deal from __ million yen up to 100 million yen scale.
As a new deal, negotiations with buyers of the fish pencil are progressing and it seems to be an annual contract. By exhibiting, we were also able to resume dealings with previous customers.
The number of new suppliers such as processing plants of cleaning seaweed and primary farming shells of shellfish has increased. Prospective closing amount is scheduled for __ million yen.