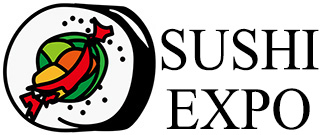 What is "Sushi EXPO"?
Sushi EXPO focus on "Sushi", which can be considered as the representative of the "Japanese food" which has been registered as a UNESCO World Intangible Cultural Heritage site that also lead to "Japanese food" boom. We will continue to spread information about "SUSHI", while promoting the wonderful fish and fishery products of Japan to around the world.
Event Outline

Event name
"Sushi EXPO 2017"
Exhibition period
August 23 (Wed) ~ 25 (Fri), 2017
Venue
Tokyo Big Sight East 7/8 Hall
Application deadline
June 30, 2017 (Friday)
Co-event of "The 19th Japan International Seafood Show"

Exhibited products / technology

Sushi Topping
Frozen Sushi
Creative Sushi
Local Sushi
Rice
Sliced Ginger(Sushi Gari)
Vinegar
Salt
Seaweed
Flavoring
Japanese tea and beverages for Sushi restaurant
Dessert
Sushi related souvenirs & goods
Live fish tank
Refrigeration technology
Frozen sushi thawing machine
Sushi processing equipment
Home delivery system
Delivery tray, Delivery equipment
Desktop order system
Conveyor belt for Rotation sushi
Rice cooker, rice cooking robot
Picture plates used for rotary sushi
Sushi Rice molding machine
Seaweed roller machine
Rice ball molding machine
Others





Visitors

Sushi restaurant
Japanese restaurant
Delivery sushi shop
Izakaya
Bulk merchandisers, department stores
Fishery wholesalers, brokerage
Fisheries officials
Conveyor belt sushi
Japanese fine cuisine and dining, Ryotei
Take-home sushi shop · Hotel, inn, ceremonial place
Convenience store · Fisheries, food processors
Various mail order, retailers etc.
others




Last year report





Exhibitor's voice

By participating in the "Sushi EXPO" section, it seemed that many overseas buyers came. We were able to negotiate with a specialized trading company for overseas Japanese restaurants, and after the end of the exhibition, we went on a trip immediately and had a concrete talk advanced. It is likely to lead to good results, with clear goals set for export.
We manage to make new proposal and pursuing business talks about the new sushi merchandising materials to some big companies and traditional sushi chain stores that had traded with us in the past. By participating in the "Sushi EXPO" section, we were able to negotiate a lot with buyers who are interested in sushi merchandise. The anticipated amount of this contract is likely to be xx million yen.